Question :
What is
Radio Free Albemuth
?
Radio Free Albemuth
was
Dick
's most autobiographical novel based upon his own experiences with what he termed VALIS — for Vast Active Living Intelligent System. In an alternate reality circa 1985, President Ferris F. Fremont, a
Richard Nixon
clone, is still in the White House chasing after the shadowy terrorist organization called
Aramchek
. In the name of security the U.S. has become a police state. A record store clerk in Berkeley named Nick Brady begins to have visions and embarks upon a plot to overthrow the government with the help of a mysterious woman named Sylvia and his best friend, science fiction writer
Philip K. Dick
himself. The story takes place against the backdrop of the music business in Los Angeles.
Question :
Back in 1999, the script was done and you were trying to find financing. Now in 2008 you finally made the movie. Why did it take so long ?
Like most writers and producers, I have a slate of projects that I'm constantly working on over the course of years. All are in different stages of development. It is so complicated to get movies made now, so many obstacles appear, that I've found the best strategy for me is to simply focus sequentially on whichever project of mine seems to have the best chance of moving forward. Back in 1999, it appeared that
Radio Free Albemuth
was on the fast track. I was committed to direct and we had a sales/distribution company that liked the script and wanted to help us attract cast and provide finance. Unfortunately, that company did not prove to be the right partner to move the project forward. We could not get them to sign off on cast that was realistic for a movie at our budget level. Also they came up with "notes" on the script that I felt would deeply compromise the basic themes of the material and turn the project into what I considered a more generic action-oriented science fiction thriller. I was very clear in my own mind about the kind of script I had written and the kind of movie that I wanted to make — something very faithful to the tone and spirit of
Philip K. Dick
's original novel and his own
VALIS
experiences. During this period when
Radio Free Albemuth
was on the back-burner, I focused primarily on writing other scripts and a good portion of the time on re-writing
Flow My Tears, the Policeman Said
, a studio-level
PKD
adaptation that I worked on for awhile during that period with
Oliver Stone
, who at that point wanted to direct.
I also worked very hard on producing an adaptation I'd written of
Jim Thompson
's
Pop.1280
which
Andrew Dominik
(
Chopper
and
Assasination of Jesse James
) came onboard to direct, but for which financing, out of France, fell apart at the last moment. (Incidentally, as I'm sure many of your readers already know,
Pop.1280
was also the basis for
Bertrand Tavernier
's classic and altogether startling movie,
Coup de Torchon
, which was released very successfully in the United States also.)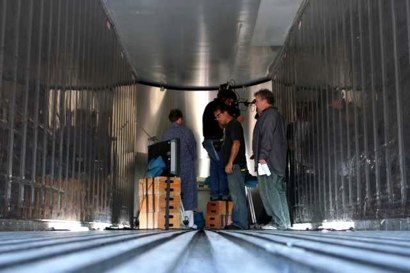 On the set of Radio Free Albemuth


During this time I also tried to hone my skills in working with actors by directing several stage theatre productions here in Los Angeles, primarily with a very well-regarded company called Classical Theatre Lab. The most interesting, I think was a production of Oscar Wilde's An Ideal Husband — As Victorian Noir, which emphasized the film noir motifs of what's normally staged as pure comedy. I included entre-actes of the biographical portion of Wilde's life that informed the play, which I wrote using Wilde's letters and the trial transcripts as source material.

About three years ago, I became very interested in the non-studio, non-foreign sales based model of micro-budget filmmaking made possible by the new developments in digital cinema. As a member of the British Academy of Motion Picture Arts and Sciences/Los Angeles, I produced and moderated a number of panels and seminars on this subject. I also taught a course on micro-budget filmmaking at UCLA-Extension and brought in over forty speakers, all of whom I extensively interviewed in preparation both for the course and for my own information. I came to the conclusion that except for the special effects component, Radio Free Albemuth was a project that really lent itself to the micro-budget paradigm. So we decided that rather than go the usual route of hanging the financing on movie stars, that PKD would be the "star" that protected the investment; i.e. we would make the movie for a low-enough cash budget, foregoing salaries and even the recoupment of our investment in the film rights for the book, and for trade-off we could make exactly the movie we wanted to make. My producing partner was not initially comfortable with this approach, so I was in the odd position of arguing that I wanted less money to make my film — and then, miraculously, a private financier named Philip Kim surfaced who had read and loved the project and wanted to wholly fund the cash portion of the movie himself at this stripped-down budget level.

Question : I guess that the script evolved quite a bit during the years...

Surprisingly little — it was just not my top producing priority for a while. Most of the evolution was in terms of my visual and dramatic ideas about the production itself. But then over the pre-production period of last summer, when it was certain that we were moving forward, I work-shopped some key scenes of the script and directed a staged reading. After that I spent three or four weeks doing a moderate re-write that I think sharpened and improved the script considerably. Not much of the dialogue changed during production itself. The actors were all very respectful of what I'd written. In terms of stage directions in the script. we were constantly improvising around the reality of the sets and locations themselves.

Question : When did you make the decision to direct the movie ?

Right from the beginning of our optioning the book, my producing partner Dale Rosenbloom, encouraged my strong inclination that I would both adapt and direct Radio Free Albemuth. He was supportive of this goal throughout all the years of development, for which I'm very grateful. He never once suggested that we submit the script to another director. Although I have to admit that if the right director had been interested, I would have had to strongly consider that alternative. Radio Free Albemuth has always been the project of mine that I most wanted to direct. For awhile, though, it seemed that my Jim Thompson adaptation, Nothing More than Murder, would come together first. Now I'm planning for that to be my second directorial effort.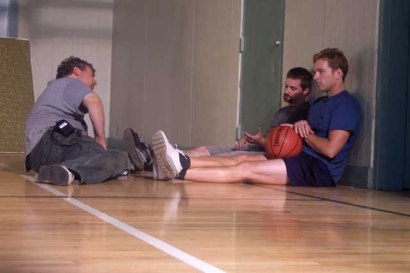 John Alan Simon talking with Shea Whigham (Phil)
and Jonathan Scarfe (Nick)



Question : What can you tell us about the casting process ?

I personally love the casting process. Every actor who walks in the door and speaks the lines brings something unique that I find extremely useful in focusing in on my own approach to the character. I find myself taking extensive notes. Well-known and interesting actors lobbied hard for all the major parts. I had the amazing luxury of casting the actors who I thought were best for the parts — without regard to the economic factor of "name" value that so often hurts and compromises indie movies. One factor was that the impending Writers Guild strike impacted many availabilities of actors. Double or triple the usual number of films were all competing for the limited pool of "name" actors. In the end — after a very long and intensive casting process — I am absolutely convinced that the right actors found their way into this movie. By odd coincidence or what I consider a lucky omen, the lead character of Nick - Jonathan Scarfe - shares the birthdate — December 16th with Philip K. Dick. My own birthdate, officially, is December 17th, a little after midnight, but I was always told that I was actually born just before midnight, also on December 16th.

The only part that I cast immediately and purely intuitively was the part of Sylvia. I met with Alanis Morissette after her agents at CAA gave her the script. After three hours of very intense conversation, I simply offered her the part. Strangely, even though I am a huge music aficianado and even wrote music reviews for many years, I was almost entirely unfamiliar with her songs, except for the big hits from her first album. So it was based on her energy and enthusiasm and personal qualities that I cast her — I thought she would be perfect as a kind of modern day slacker version of Joan of Arc, which is how I describe the character of Sylvia. Alanis is on a worldwide tour now in support of her new album — Flavors of Entanglement — and never fails to mention Radio Free Albemuth in interviews. So, we may have the fringe benefit of her introducing PKD to a whole new audience of her fans. Alanis considers Radio Free Albemuth her dramatic film acting debut and I'm very pleased with and proud of the performance she gave. She was also an unmitigated pleasure to work with.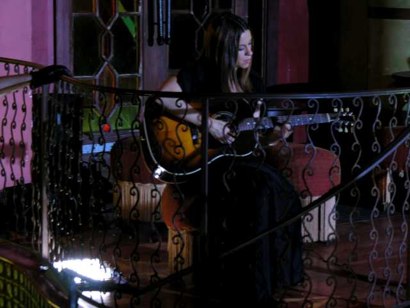 Alanis Morisette plays Sylvia, a singer who may free the world.




Question : And about the first day of shooting ?

The first couple of days of shooting were for effects plates and inserts so that was a great warm up for me. The first actual day of principal photography with actors involved many short scenes with different locations spread all across LA. So we shot that with a stripped down skeletal crew. Jonathan Scarfe — Nick; Shea Whigham — Phil; and Katheryn Winnick — Rachel — were all great in terms of doing without trailers and working on their own make-up and wardrobe that day. In this long, long day of modified student-film style filmmaking, we established a core band of fllmmakers. By the time I was working with the full crew, I felt we had already created a degree of relaxation and camaraderie that stood us in good stead on what was to be a very challenging and often difficult shoot from a production logistics point of view. Throughout this movie, I really had to have a very deep sense of trust in all my collaborators, both cast and crew. This became a great opportunity of personal growth for me. I'm also indebted to my producing partners, Dale Rosenbloom, Philip Kim, Stephen Nemeth and Elizabeth Karr for all their advice, hard work and support. All of them, like myself, were motivated by their love of the PKD novel and belief in the significance and timeliness of this story. None of them took one cent out of the budget in salary.

Hollywood has not had a very good track record in terms of capturing the quirky, unique blend of metaphysics, politics and black humor in PKD's fiction. Mostly, it's been a case of a "high-concept" science fiction idea simply providing the framework for a typical action/thriller movie. As too often is the case, the motivation at the studio level of filmmaking is a combination of fear and greed. It's worth pointing out that Radio Free Albemuth has been a financial sacrifice for almost everyone involved at every level. I think the final results will justify the effort. And I like to think that Philip K. Dick himself would be proud of this small, feisty, subversive movie, so in keeping with the themes of Radio Free Albemuth itself. Perhaps in some better alternative reality, he's already seen it. And the truth is when the going got the roughest on this movie, I tried to stick to the core principles of clear and simple story-telling. So in that sense, I felt that I was constantly able to channel his spirit. For which I am most grateful. It was also very cool to have him there as a character in the film.

I like to think that Philip K. Dick himself would be proud of this small, feisty, subversive movie
Question :
How did you work with the actors ? Did you ask them to read the book ? How did
Shea Whigham
build his
PKD
character ?
I love very much working with actors. From my experiences as a producer, I must admit that not every director does. Since so many of them come from the world of commercials and music videos, they're sometimes not really conversant with the acting process and don't know how to make actors feel comfortable enough to access their emotions. For the last five or six years, I've directed theatre here in Los Angeles — initially just as a way to find out more about acting. I was very fortunate that my wife,
Elizabeth Karr
, who is a co-producer and one of the casting directors on
Radio Free Albemuth
, has an extensive theatre background and is chairman of a theatre company called
Classical Theatre Lab
. We met when her company did a staged reading of another screenplay of mine,
Nothing More than Murder
, based on
Jim Thompson
's novel.
In the
Classical Theatre Lab
's weekly sessions, I've had the opportunity to observe many, many different, accomplished directors work with actors on scenes from classic drama. As a director member of the Lab, I've also gotten to know at least some of the actors very well. So when I've worked with them on plays, I've seen the obstacles they sometimes encounter to give their best performances. I try to let actors know that I'm never judging them. I have no expectations as they work. Each actor has to give a performance that's emotionally truthful for them. Authentic to who they are. Sometimes technique is helpful, sometimes it gets in the way. Trust is the most important component of this process. The actor needs to be in the moment, so the director's function is to give honest feedback when necessary. Even though, I'm not an actor, I know firsthand how difficult it is to access emotions on a deep level. I've been in the most amazing group therapy for the last decade, where I've learned more about the human heart than all my studies of literature at Harvard or elsewhere. You can't ask an actor to journey to an emotional place that you're not willing to go to yourself.
As I think many directors will tell you, casting is all important — particularly for a movie that's on a tight budget and schedule. There are many more talented actors to play a part than the one person you end up casting. But if you happen to cast the wrong actor, it is a very difficult mistake to recover from. In theatre it might turn out okay, but in films there's simply not enough time.
Apart from emotional openness the qualities that I look for in an actor are intelligence and enthusiasm and curiosity. It's much easier to direct if you feel on the same wave-length with the actor simply as human-being to human-being. You don't exactly want to be best friends with your actors while you're shooting, but it's important to like them. And important, of course, that they like you. Movies are hard work and tempers inevitably flare, so this underlying basic rapport is important.
I had my own personal rehearsal process working with a pretty amazing "coach" named
Joan Scheckel
. She was recommended to me by
Jonathan Dayton
and
Valerie Ferris
who worked with her intensively before starting
Little Miss Sunshine
. When I asked their advice, they praised her to the skies. By lucky accident,
Joan
's once-a-year intensive workshop was starting just before production on
Radio Free Albemuth
. The class was full but she made room for me. It was almost entirely focused on very direct and unusual techniques for getting actors to the place where they can access the qualities you need for the character. It was strenuous work and very physical. It turned out to be great preparation for me. As
Walter Hill
, once said to me, the hardest part about directing is directing yourself.
Joan
really helped me get back in touch with my story and characters and gave me some very useful new ways of understanding the actor's process.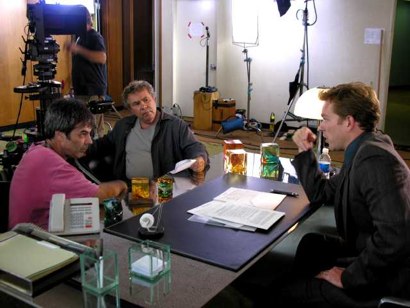 On set with John Alan Simon and Jonathan Scarfe.



Because of the impending writers' strike last fall and certain requirements that we finish before the end of the calendar year, there was no time for rehearsal. I did have excellent meetings with my lead actors to discuss the parts. And on the Saturday night before our Monday start, I "introduced" the three main friends of the story — Nick, (Jonathan Scarfe); Phil (Shea Whigham) and Rachel (Katheryn Winnick) over dinner at a restaurant called Hugo's in West Hollywood. I stayed long enough to get the conversation rolling then left the three of them alone with several bottles of good wine to stay until closing time — around 1 am. I think they bonded that evening and developed a level of familiarity to effectively play close friends. In retrospect, I would have to say that organizing that dinner was one of the best things I did on the movie.

I neither encouraged nor discouraged the actors from reading the novel. In the final analysis, we're filming a script, not a novel. So if it's not in the script, it's not going to be in the movie. While my script is very faithful to the novel, there are some differences, many of them subtle. The story and the philosophy and the intelligence of the novel are very much evident in the script, I think. The spirit is the same. But the characters themselves are quite a bit different. For one thing, they're younger than in the novel. That's just how I saw them. And other things changed as a consequence. I also felt it would be better to cast the movie with less known actors as the leads. I knew it was unlikely we would be able to attract huge stars to a very modestly budgeted movie by a first time director. And I knew it would be a tough shoot. Most movie stars would have quit mid-way through filming. Maybe Christian Bale would have hung in — if he could work with Werner Herzog in the jungles, I have to assume he can do anything.


The growing list of
Philip K. Dick
novels and short stories that have been adapted into movies is impressive. Past movie adaptations include
Blade Runner
,
Total Recall
,
Confessions d'un barjo
,
Screamers
,
Imposter
,
Minority Report
, and
A Scanner Darkly
.



John alan Simon
, writer, producter and now first time director talks about the adventure behind his movie adaptation of
Philip K. Dick
's
Radio Free Albemuth
.




All photos are
©
Radio Free LLC
.
John Alan Simon : Radio Free Albemuth Redux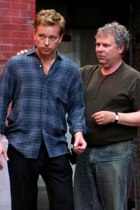 John Alan Simon (right) with Jonathan Scarfe (left)