18/08/10 11:42 Rubrique :
Etude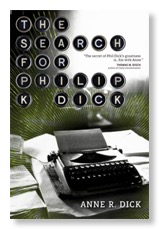 Anne Dick
publie en septembre, chez
Tachyon Publications
, une version révisée de son excellente biographie,
In Search of Philip K. Dick.
Elle y raconte principalement leurs six années de mariage, multiplie les témoignages et les souvenirs. Son manuscrit a longtemps servi de base à la plupart des « grandes » biographies de
Dick
, il s'agit là de l'occasion de vous reporter directement à la source !
La première édition atteint désormais des prix stratosphériques chez les bouquinistes, la seconde est
toujours disponible
. Je suis curieux de découvrir ce qu'apportera cette troisième édition.
Je vous en reparle dès que j'ai des informations supplémentaires.
13/12/09 16:37 Rubrique :
Philip K. Dick
Exercice annuel : qu'offrir, que s'offrir quand on veut un peu de
Philip K. DIck
sous son sapin ?
Une sélection de ce dont nous avons parlé ces derniers mois :
make custom gifts
at
Zazzle
17/12/08 12:12 Rubrique :
Boutique
Ah... Trouver un cadeau de dernière minute... Et pourquoi pas un cadeau dickien ?

Le livre d'
Anne Dick
,
In Search of Philip K. Dick
est disponible chez
Abebooks.fr
, nettement moins cher que chez
Amazon.fr
;

Pour les amateurs de l'
Exégèse
, en VO, acheter
In Pursuit of Valis
chez
Amazon
, particulièrement cher, ou encore chez le très recommandable
Abebooks.fr
!

On peut trouver des livres audio (attention ils sont seulement en VO) de
Philip K. Dick
sur

;

Je profite de l'occasion pour ajouter quelques
T-Shirts
même si je dois avouer que je n'ai toujours pas trouvé la perle rare ;

Et comme cela fait l'actualité et que c'est vraiment l'achat indispensable du moment : le documentaire
Philip K. Dick The Penultimate Truth
(VO non sous-titrée) à commander directement chez l'éditeur,
Kultur
, ou encore
amazon.com
ou chercher sur
eBay
.