13/04/11 09:58 Rubrique :
Théâtre
Voilà un projet intéressant pour nos lecteurs de la région lyonnaise !
La compagnie
Haut et Court
, en résidence au Théâtre de Vénissieux, propose le
vendredi 15 avril
une étape de travail, nourrie par les ateliers que le metteur en scène
Joris Mathieu
a partagés avec des étudiants comédiens et scénographes de l'Université de Nantes.
La compagnie a travaillé autour de la nouvelle «
Ce que disent les morts
», texte matrice de
Ubik
.
Au programme de la soirée :

présentation d'une courte forme « Au revoir Monsieur Sarapis »,
projection de courts-métrages
rencontre-débat animée par Jeremy Zucchi, chercheur spécialiste de la science-fiction.
L'entrée est
libre
et la soirée commence à
20h
!
À lire pour plus d'informations :

03/05/09 18:17 Rubrique :
Théâtre
800 Words: The Transmigration of Philip K. Dick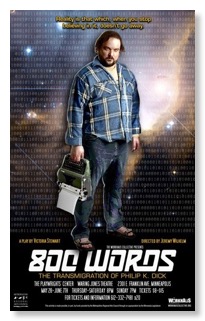 by
Victoria Stewart
Directed and designed by
Jeremy Wilhelm
Lighting Design by
Heidi Eckwall
Video Design by
Amber Miller
Stage-managed by J
enny Moeller
Starring
Luverne Seifert
as
Philip K. Dick
with
Maggie Chestovich
,
Ryan Parker Knox
,
Allison Moore
,
Mo Perry
,
Kimberly Richardson
,
Clarence Wethern
800 Words: The Transmigration of Philip K. Dick
is based on the life of ground-breaking science fiction author,
Philip K. Dick
, complete with secret agents,
Dick
's dead sister and a talking cat. 800 Words is a surreal landscape where memories bleed into each other, fusing and merging in a funny, dark trip – not unlike a
Philip K. Dick
novel.


Il s'agit d'une pièce de théâtre américaine basée sur les dernières années de
Philip K. Dick
. Pour me faire pardonner le couper / coller précédent voici quelques liens supplémentaires :