The Owl in Daylight
13/02/09 23:25 Rubrique :
Roman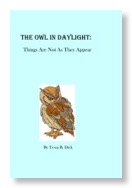 Nous en avons parlé à de multiples reprises. Le roman de
Tessa Dick
The Owl in Daylight
vient de sortir.
Il s'agit du récit imaginaire de ce que qu'aurait pu être l'ultime roman de
Philip K. Dick
, celui qu'il projetait d'écrire juste avant sa mort. Une autre variation est en préparation sous la forme du film
The Owl in Daylight
, qui est encore au stade de l'écriture.
Vous pouvez lire ici une nouvelle
interview
de
Tessa
où elle explique la genèse du projet et une
critique
du livre. À noter que l'interview comporte une
photo
que je ne connaissais pas.
Il est disponible, directement chez
amazon.com
:
The Owl in Daylight
.

J'aimerais faire quelque chose autour de ce livre. Peut-être voir s'il est possible de faire une commande groupée d'exemplaires dédicacés... Donnez votre opinion dans les commentaires.
Sur le même sujet, lire :